Richard Durkin says credit black mark left him unable to buy home after he returned computer at PC World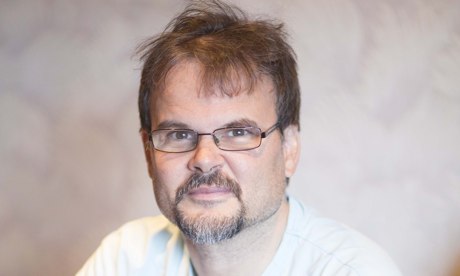 All Richard Durkin wanted was a laptop with an inbuilt modem. But what he ended up with was an epic 16-year legal tussle, a £250,000 bill for legal fees and, now, a date at the supreme court.
The 44-year-old married father of two has been engaged in a David-and-Goliath battle against the bank that he says "annihilated" his credit rating after he
walked into his local PC World to buy a £1,500 laptop in 1998
.
With the help of a supportive QC, a charity and a leading solicitors' body, he has now succeeded in winning a hearing at the
supreme court
, which is reserved for cases "of the greatest public or constitutional importance affecting the whole population". On 28 January a panel of five justices will decide once and for all whether he was the victim of an injustice following a dispute over a credit agreement.
He is seeking a six-figure sum after arguing that being wrongly blacklisted meant he was unable to buy a home; papers lodged with the court state that Durkin alleges the bank's conduct "amounted to extortion". The marathon legal row is seen as an important test case for thousands of people who say their lives have been ruined after black marks were put on their credit files.
"People don't realise how much damage a default on your credit record does until they actually have one," he said. "It's like I'm in a financial jail." He acknowledged that taking his case to the supreme court was a high-stakes move: "If I lose, I go bankrupt – simple as that."
The saga began on 28 December 1998, when Durkin, an offshore construction surveyor, went to the Aberdeen branch of PC World to buy a laptop. The sales assistant pointed out a particular model, but it was in a sealed box, so it was not possible to check whether it had the right modem.
It is claimed that the assistant suggested Durkin buy the laptop, saying that if there was a problem he could return it and get his £50 deposit back. Durkin bought the computer, handed over his £50 and signed a credit agreement with HFC Bank – which provided PC World's in-store finance and is part of the HSBC group – for £1,449 to cover the balance. When he got home he found the laptop did not have an inbuilt modem, so he took it back the next morning. But the manager on duty refused to take the computer back, refund his £50 or cancel the agreement.
Durkin left the laptop at the shop, then went to work offshore, but when he got home a fortnight later he found the laptop waiting for him. He again took it back to the shop, where it stayed, and later sued PC World for the £50. The company paid up without admitting liability. Durkin assumed that was the end of the matter, but HFC Bank said he was still required to make payments under the terms of the agreement. He says he explained what had happened, but the bank warned that if he did not pay up, possible consequences included "difficulty in the future in obtaining a mortgage or other credit".
Sure enough, HFC Bank later put a default notice on his Experian and Equifax credit files. Durkin says he tried without success to get these black marks removed, and the bank "made no inquiries into [Durkin's] claim that he had been entitled to and had in fact rescinded his contract of sale", according to a 2010 court judgment. The black marks stayed on his files until at least 2005.
This had a major impact on his finances and, he claims, prevented him from buying a family home in Spain in late 2003. He says that because of the default notice, he was not able to raise enough money for a 30% deposit on a €300,000 property in Malaga.
The case eventually made it to Aberdeen sheriff court where, in March 2008,
Durkin won his case
. Sheriff James Tierney ruled that he had been entitled to reject the laptop and cancel the sale and the credit agreement. The court awarded damages of £116,000 to Durkin. But, two years later, that decision was
overturned by judges at the court of session
in Edinburgh. They ruled that even though the sale of the laptop had been cancelled, the contract of sale and the contract of loan were separate agreements, and Durkin was not entitled to cancel his credit agreement. That meant the information put on his file about him being in default was factually accurate, they added.
The judges also highlighted Durkin's spending levels at the time: they said that between mid-2001 and late 2005, his credit card debt jumped from £4,000 to £37,000. "It appears to have been the general level of [Durkin's] expenditure, linked to his decision not to become a Spanish tax resident, in which event a 95% mortgage would have been available to him ... that led to his being unable to afford to proceed with the purchase of a property in Spain," they said.
For its part, PC World has previously argued that Durkin bought the laptop in the knowledge that it did not have an internal modem, while HFC Bank's case is that he "made no call on them to amend the entries" on his files, and that the injury and damage he claimed to have suffered was "too remote a consequence of the alleged negligence", according to the 2008 ruling.
While some people might have thrown in the towel at that point, Durkin decided to plough on. The charity
LawWorks
– which provides free legal help to those who cannot afford to pay for it – put him in touch with a leading Scottish QC, Andrew Smith, who agreed to act for him on a
pro bono
basis and will now represent him at the supreme court. Meanwhile,
the Law Society of Scotland
helped with funding the court costs.
"The stress hasn't killed me yet," Durkin replied when asked how, and why, he had battled away at this for so many years. "It's too late to throw in the towel – I'd be bankrupt for doing the right thing." He added that if he did not win justice, banks would continue "destroying lives unhindered".
HSBC and Dixons Retail, which owns PC World, both declined to comment
Ref:
here